Rosetta Stone

CD-DVD versions or Online Courses?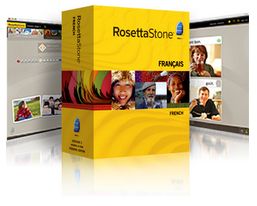 The software Rosetta Stone leads undoubtedly the field of language learning, having over 5 million users in 150 countries.
If you need more information about the software and the courses you can visit our introductory page about Rosetta Stone.
CD and DVD versions or Online Subscription
The sale of Rosetta Stone CDs & DVDs versions has been discontinued in 2019.
Now you can register to the online courses for 3, 6 or 12 months.
Although the way of access is different, the contents do not vary. Online courses require to be connected to the internet during learning times.
Free Online Demo

Snapshot of the free online demo
An easy way to understand how the learning system works, is by trying the free online demo at Rosetta Stone website.
The software is designed for people of any nationality as it is intended to be instinctively understood, without any previous written or oral instruction.
Where to buy or subscribe
The courses can be bought directly online on Rosetta Stone website where you can also subscribe to the online courses.
This page is also translated in other languages in Rosetta Stone in linea in Italian, Rosetta Stone en ligne in French and Rosetta Stone in Spanish.