Rosetta Stone Italian

The language software to learn Italian
Rosetta Stone Italian is part of the Rosetta Stone series, a software for language learning used by more than 5 million people in 150 countries.
Apart from private users, it is used by many companies, government agencies and military agencies of various nations.
It is possible to try the online demo in the website of the publisher.
Video of demonstration
This video gives an idea about how the software works:

Video of demonstration of Rosetta Stone Italian
Online Demo
To understand how the system used in Rosetta Italian works, it is undoubtedly necessary to see it in practice. It is possible to view the free demonstration in the site of the producer Rosetta Italian.
Editions and languages
At the time of our visit to the site, many of the courses were published in the updated third edition and languages available are: U.S. English, British English, French, German, Spanish, Italian, Arabic, Chinese (Mandarin), Danish, Dutch, Greek , Jew, Indonesian, Japanese, Korean, Latin, Polish, Portuguese (Brazilian), Russian, Swedish, Filipino, Thai, turkish, Vietnamese and Welsh.
Learning System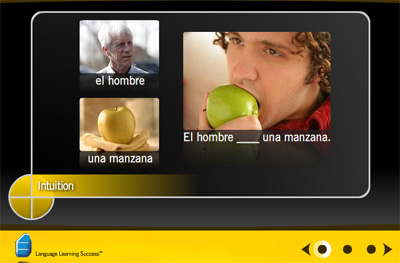 The learning method, known as "dynamic immersion", is based on images, intuition, interactivity and education and differs's quite considerably from other programmes. It consists of lessons in which images appear on the screen in groups, accompanied by audio pronunciations of a native speaker and the text in words. The program generates combinations of exercises either automatically or based on user requirements, and is able to assess whether they are carried out properly. You can find more detailed information about the method in our article about Rosetta Stone.
CD and DVD versions or monthly subscription
On the site you can also, as an alternative to the purchase of the software on CD or DVD, subscribe monthly for three, six or twelve months and play the same exercises.
Guarantee
At the time of our visit to the site, the manufacturer offers a guarantee to 100% of the cost of the course (excluding shipping) in case of refund of the course on CD or DVD within a period of six months of purchase.
Whery to buy
You can buy the course online at:
See also:
Travel to London: how to visit London with the London Pass and the London Pass Travelcard.