Review of Rosetta Stone 2022

Does it really work?
Last Updated on February 1, 2022 by Editorial Staff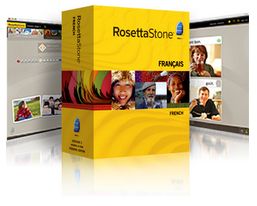 Rosetta Stone is the most widely used software for language learning in the world with five millions of users in about 150 countries.
It is used by individuals, firms, corporations and government agencies like NASA and the US State Department. It is developed by the American company Rosetta Stone Inc. Its success is due to the highly innovative method and to its efficacy.
You can either try the online demo for free or buy the software online.
Note: Rosetta Stone 25% discount until December 5, 2022
Rosetta Stone 40% discount: it seems that at least until the 5th of December 2022 the 25% discount on beginner courses in Online Subscription form is going to continue.
With this discount, the price of beginner courses in online subscription is £ 180 instead of £ 240.
Does it really work?
Does Rosetta Stone really work? According to the several reviews and opinions of buyers that we have analyzed, like those on Yahoo Answers, Rosetta Stone works well for certain users, for example visual learners, depending on the way they prefer to learn their new language. For this reason it's important to try the demo at first.
For other people the software is not useful, like Benny Lewis shows in his blog review Fluent in 3 Months.
Rosetta Stone is considered a good way to start learning a new language for some people, but must be followed by additional methods like attending classes and speaking with other students and natives.
The Learning Method
The main feature of this software is its Dynamic Immersion method, which involves the user and make foreign terms stick in the memory.
Online Demo

View of the nline demo
You can try the free demo in the website of the editor to see how the system works.
Available Languages
Many of the courses are updated to the third edition and the available languages are: U.S. English, British English, French, German, Spanish, Italian, Arabic, Chinese (Mandarin), Danish, Dutch, Greek , Jew, Indonesian, Japanese, Korean, Latin, Polish, Portuguese (Brazilian), Russian, Swedish, Filipino, Thai, turkish, Vietnamese and Welsh.
Learning Method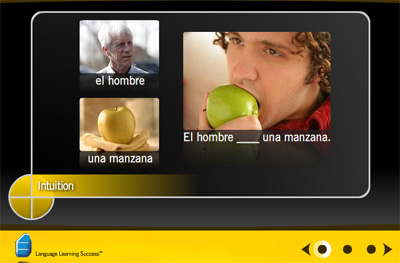 Associating concepts for learning
The most innovative point of the courses is the method, known as Dynamic Immersion (registered trademark). It is based on images, intuition, interactivity association and it is quite different from other softwares. During the lessons, images appear on the screen in groups, together with audio pronunciations by a native speaker and scripts. The software generates combined exercises with a missing element that can vary from script to sound and can assess if they are carried out correctly.
Italian language course
Here you can find more detailed information about learning Italian with Rosetta Stone Italian.
Online Monthly Subscription
In addition to CDs or DVDs, online courses are also available on a monthly basis direcly on the website of the publisher. The exercises are the same.
Guarantee
The manufacturer, at time of writing, offers a 6 months guarantee of 100% of theCD/DVD course cost (excluding shipping).
How to buy it
You can buy the courses of RosettaStone directly on the website of the publisher at the following link:
This page in other languages
You can read this article also in our international versions: Italian on Rosetta Stone in italiano, French on Avis sur Rosetta Stone, Spanish on Rosetta Stone funciona? Portuguese on Rosetta Stone in Portuguese.