Guide to Le Marche
The region of Le Marche (pronounced "lay Markay") with its mixture of culture, cousine, wines, little medieval towns, countryside, coast and mountains, portrays the charm of the traditional Central Italy.
Location. Located at centre east, it's the calf of Italy's boot. The territory gently raises from the plains on the Adriatic coast, with mild hills in the central area, up to the Appennini Mountains.
Culture. Although the coast has been popular for many years, much of the inland remains unspoilt, preserving the culture of real Italy.
Visiting the region
The region is known for pleasing visitors who come for the taste of authentic Italy, untouched by mass tourism but welcoming to the foreigner.
What to visit
You can start with mountain villages where the time has stood still, or with small towns to discover by yourself, all immerse in the charming countryside, like Recanati, Cingoli, Jesi, Camerino, San Leo and Fermo. More popular and also interesting to visit are the bigger towns of Urbino, premises of the court of the Duke of Montefeltro in the 15th century, Ascoli Piceno with the beautiful main square, Ancona with it's sea port and more hidden attractions, and Macerata with the annual open-air opera festival. Sirolo, situated on the sea, is small and delightful, while for busier areas look for San Benedetto del Tronto, Gabicce and Senigallia. If you love nature, don't miss the Frasassi caves, the Furlo Gorge, the Monte Conero and the Sibillini Mountains.
People
They are kind, modest, gentle and a little bit more relaxed then the ones in northern Italy. That means many like, and have time, to enjoy a relaxing conversation, possibly in front of a simple meal prepared by the home cook, mamma.
Interesting articles about Le Marche
Article published by The Guardian about how to visit Le Marche on a budget in March 2013.
Learning Italian
Once you are in the region, you will notice that knowing the basics of Italian language will make you enjoy the company of the locals much more. Within the range of courses available on the market, the most effective ones, used also by many companies and government agencies are the courses on CD and DVD of Rosetta Stone Italian.
Where to stay, hotels in Marche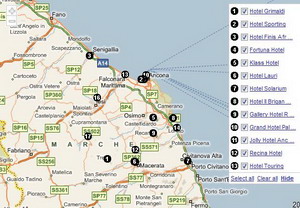 Try directly the hotel search on map: marche area with online booking, or visit our page Marche hotels.
Useful books and maps
More information
The most comprehensive site regarding this Italian region is the official tourist site of the region Marche Voyager, with information about nature, itineraries, history, food & wine and events.
Property for sale in Le Marche
You can see our selection of houses for sale in the region on our page property for sale Le Marche.